Bloodless hunting in Shimba Hills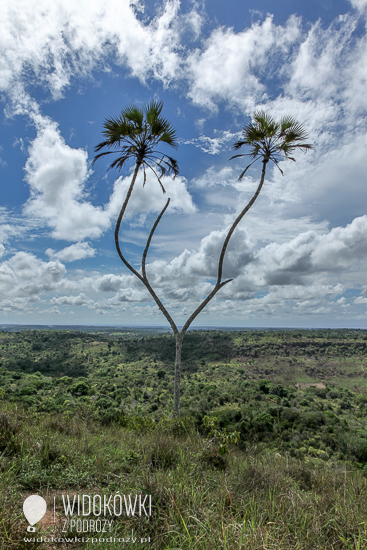 One day we went to the
Shimba Hills National Reserve
where you can get out of the car and walk between the animals to preview Africa directly. Reserve with an area of 192 km2 situated on the hills reaching 450m ASL and is intended to protect the last herd of sable antelopes in Kenya. In addition to antelope could see a few other animals, whose profiles we want to present to you: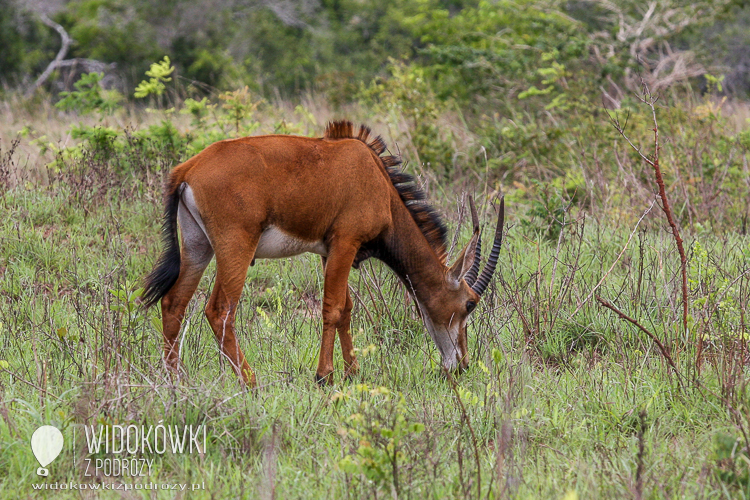 1. This beautiful specimen plucking a dry savanna. This is, of course, Sable Antelope.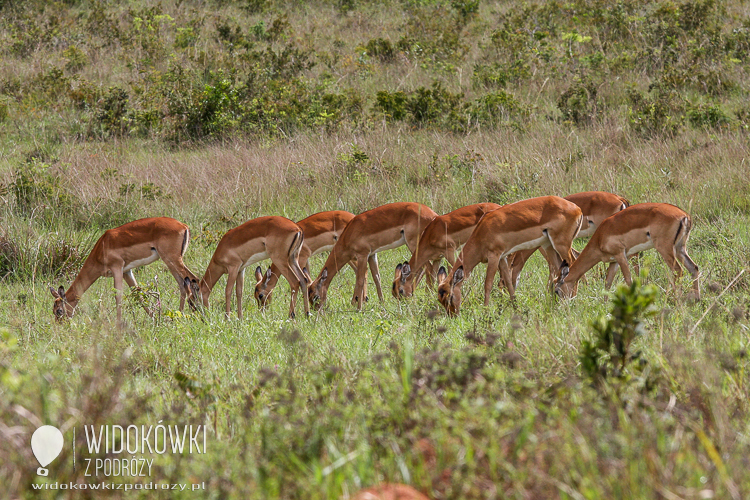 2. Here Oribi antelope herd living in the savannah with thickets.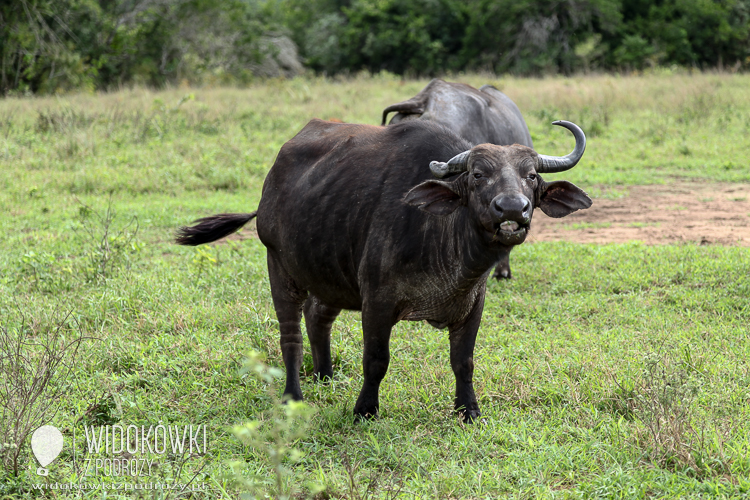 3. We followed in the footsteps of a beautiful African buffalo, quiet animal to watch, but from a distance.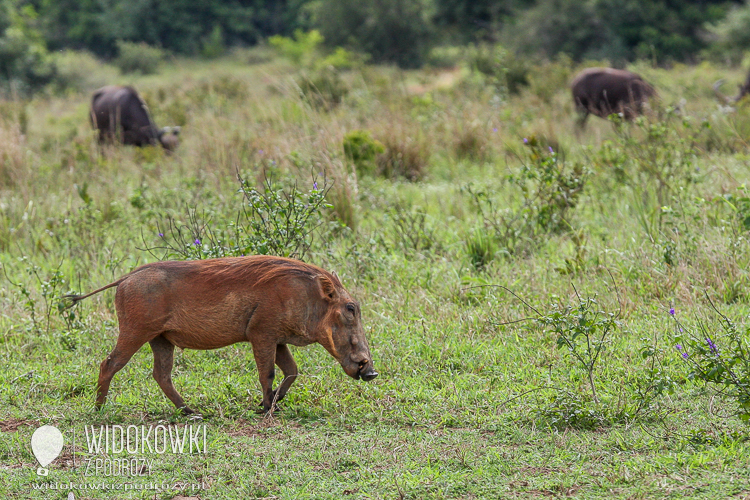 4. Pumba (we know him from The Lion King) or Keniaekspress - biological species name is warthog, very nice pig.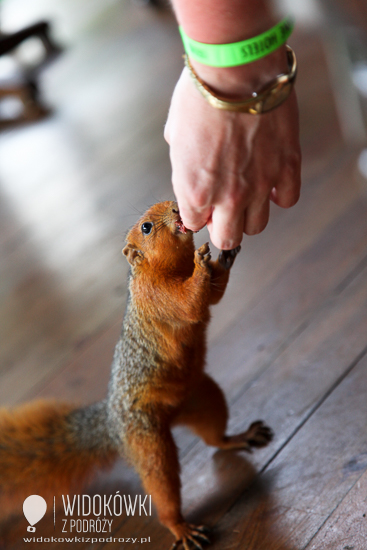 5. A pet is the nicest we met in Shimba Hills - a small squirrel, which really enjoyed the bread crumbs from our table.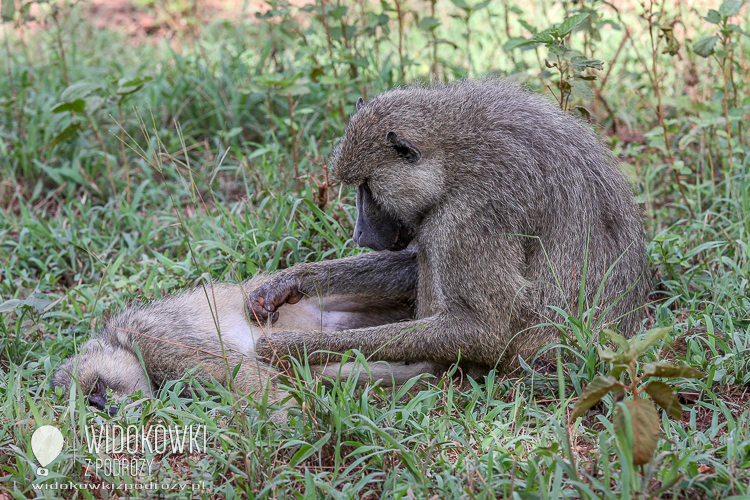 6. Meeting with baboons, a flock of these resolute monkeys were playing on the road to the hotel, beautifully posed old and young, these still fledgling urchins.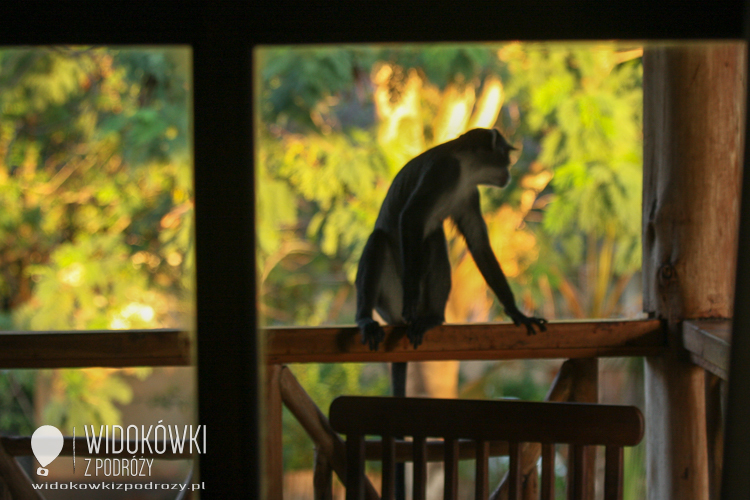 7. Photographic equipment before safari tried on Hotelbanditen - monkeys that are a nuisance hoteliers in Kenya. You see a monkey sitting on the balcony of our room and seeking entry opportunities. These malignant monkeys belong to the genus macaques.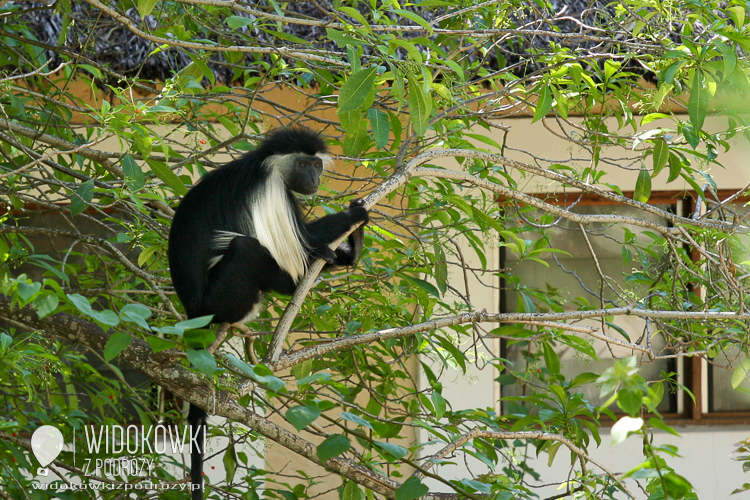 8. The second type of monkeys hotel seemed much nicer, not coming up to the room to steal the umbrella from drinks. They sat in the trees by eating the young shoots of trees - thats were King colobus (Colobus polykomos).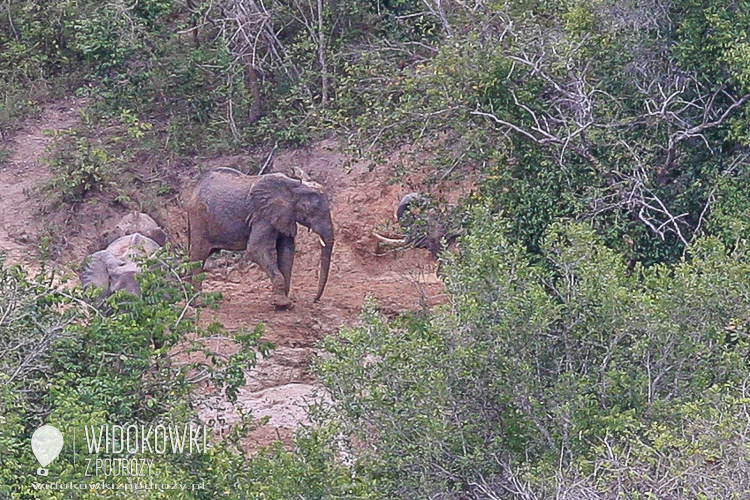 9. This giant is the African elephant. Animals sprinkle the red earth, and therefore at sunrise look like pink porcelain figurines.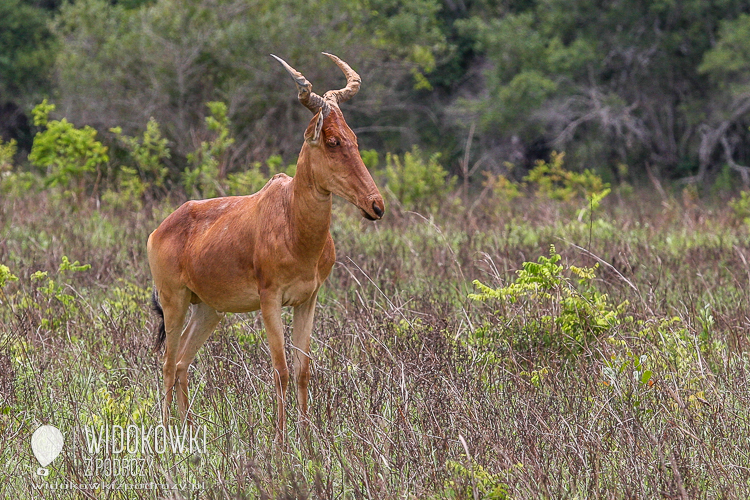 10. This very calm and very comely creature is Hartebeest, a representative of the African antelope.
Today's animals and this peaceful herbivores, but when the crisis is over we're going to hunt, as the King of Spain Juan Carlos, but we will be very careful on our hips. Wild pictures will present you sometime willingly!
Text: Katarzyna Stor
Photo: Katarzyna i Marek Stor

www.widokowkizpodrozy.pl
facebook.com/widokowkizpodrozy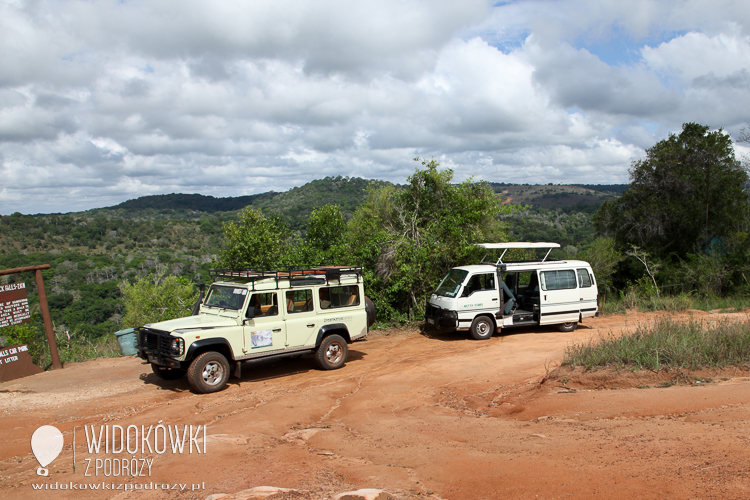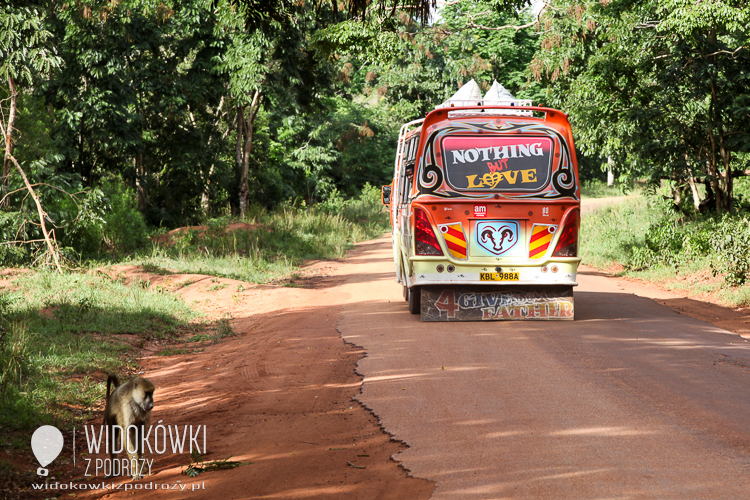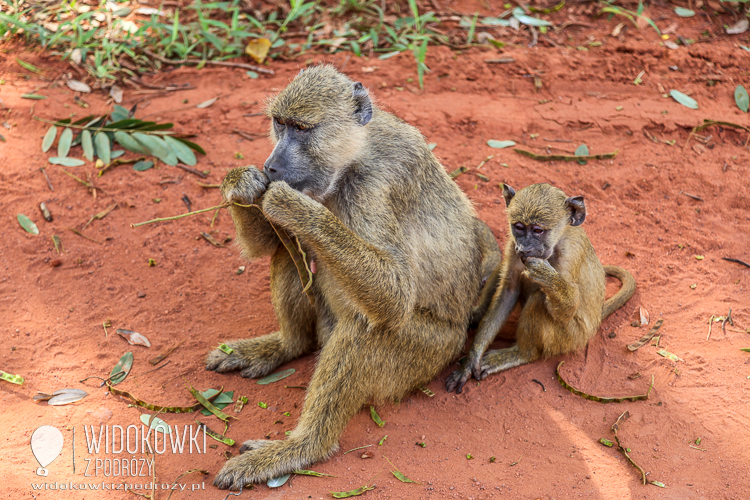 ---
Bezkrwawe łowy w Shimba Hills


Pewnego dnia wybraliśmy się do Narodowego Rezerwatu Shimba Hills, gdzie można wyjść z samochodu i spacerować między zwierzętami, aby podejrzeć Afrykę z bliska. Rezerwat o powierzchni 192 km2 położony jest na wzniesieniach osiągających 450 m n.p.m. i ma służyć ochronie ostatniego w Kenii stada antylop szablorogich. Oprócz antylop udało się zobaczyć kilka innych zwierząt, których sylwetki chcemy wam przedstawić:
1. Ten piękny okaz skubiący suchą sawannę to oczywiście antylopa szabloroga.
2. Oto stado antylop oribi, żyjących w sawannie z zaroślami.
3. Udało się wytropić pięknego bawoła afrykańskiego, spokojne zwierzę do oglądania jednak z daleka.
4. Pumba (chyba znamy Króla Lwa) czyli Keniaekspress – biologiczna nazwa gatunku to guziec, niezmiernie sympatyczna świnka.
5. A to najsympatyczniejsze zwierzątko, które spotkaliśmy w Shimba Hills – mała wiewiórka, której bardzo smakowały okruchy chleba z naszego stołu.
6. Spotkanie z pawianami, stado tych rezolutnych małp bawiło się przy drodze do hotelu, pięknie pozowały stare i młode, takie jeszcze nieopierzone łobuziaki.
7. Sprzęt fotograficzny przed safari sprawdziliśmy na Hotelbanditen – małpach będących utrapieniem hotelarzy w Kenii. Widzicie małpeczkę siedzącą na balkonie naszego pokoju i szukającej możliwości wejścia. Te złośliwe małpy należą do rodzaju makaków.
8. Natomiast drugi rodzaj małp hotelowych wydawał się wiele sympatyczniejszy, nie podchodziły do pokoju i nie kradły parasolek z drinków. Siedziały w koronach drzew zjadając młode pędy drzew – były to gerezy białobrode.
9. Ten olbrzym to słoń afrykański. Zwierzęta posypują się czerwoną ziemią, i dlatego o wschodzie słońca wyglądają jak różowe porcelanowe figurki.
10. Ta bardzo spokojna i mało urodziwa istota to bawolec, przedstawiciel afrykańskich antylop.


Dzisiejsze zwierzęta a to spokojni roślinożercy, ale jak kryzys się skończy to wybierzemy się jeszcze na łowy, jak król Hiszpanii Juan Carlos, tylko będziemy bardzo uważać na nasze biodra i dzikie zdjęcia chętnie Wam kiedyś przedstawimy.

Tekst: Katarzyna Stor
Zdjęcia: Katarzyna i Marek Stor


Tekst opublikowany w "Gazecie Powiatowej"  8 maja 2012.


"Widokówki w podróży" to cykl artykułów fotograficzno-podróżniczych, ukazujących sie od 2011 roku na łamach legionowskiej "Gazety Powiatowej".