LAZNIA 1 Centre for Contemporary Art | Gdańsk - Dolne Miasto, Poland, ul. Jaskółcza 1
Exhibition: IRWIN. Planting seeds
Event runs from May 13, 2016 to Jul 17, 2016 (Gdańsk)
The vernisage will take place at May 13, 2016 6:00 PM
IRWIN. Planting seeds
13.05-17.07.2016
Opening: 13.05.2016 (Friday), 6 p.m.
Laznia CCA, 1 Jaskolcza Str., Gdansk
Curators: Julia Draganović and Claudia Löffelholz, LaRete Art Projects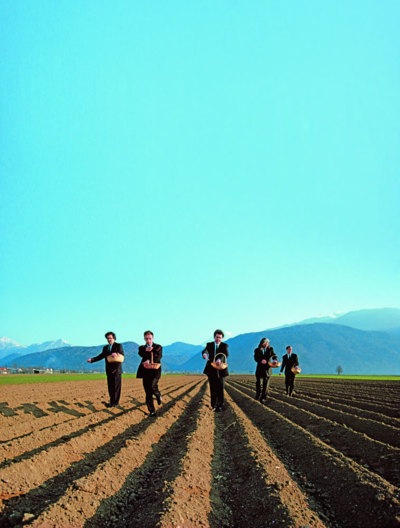 The third stage of an international project dedicated to the Slovenian group IRWIN and their collaboration strategies will take place at the Łaźnia Centre for Contemporary Art in Gdansk. The previous exhibitions were held at the Galleria civica di Modena (Italy) in the spring 2014 and at the Kunsthalle Osnabrück (Germany) in the autumn 2015. The exhibition is curated by Julia Draganović and Claudia Löffelholz of LaRete Art Projects and will take place from May 13th to July 17th 2016.
The major survey exhibition of IRWIN's public art projects will revisit the notion of public space in different ways. The appropriation of advertisement and film as well as of national attributes which IRWIN constantly de-construct belong to those artistic strategies considered during the exhibition. A number of photographs, installations and videos will be shown. These are the results of more than 30 years of collaborative practice which IRWIN pursued with some of the most influential artists and thinkers of our time as well as with ordinary citizens. As a part of the exhibition the NSK State Passport Office will open. Everyone will be able to request a passport of the utopian state founded in 1992. Just like the previous passport offices that established  in the past – including the first in Moscow in 1992 and in New York in 2012 – the opportunity will be provided to join a new state, for all those who identify with the constitutional principles of the NSK such as equal opportunities regardless of one's ethnic or national origins and sexual or religious orientations. Another focus of the exhibition will be devoted to IRWIN's works and interventions in the public space like the cycle "Transcentrala, New York, Moscow, Ljubljana".
The story of the Slovenian artists' collective starts in 1983 with the spontaneous collaboration between young artists from the punk and graffiti scenes in Ljubljana. Dušan Mandič, Miran Mohar, Andrej Savski, Roman Uranjek and Borut Vogelnik founded the group Rrose Irwin Sélavy named in honour of the female pseudonym of Marcel Duchamp. The next year, in collaboration with the music group Laibach and the Gledališče sester Scipion Nasice theatre company, they founded a broader artists' collective known as Neue Slowenische Kunst (NSK, which means in German "New Slovenian Art"). The NSK absorbed subsequently other collectives ranging from graphics and video art to philosophy. Their work, distinguished by their sharp wit and a pronounced sense of ambiguity, expresses a complex and subtle connection between art and ideology. The members of IRWIN live and work in Ljubljana, Slovenia. 
The exhibition is co-financed by The Ministry of Culture and National Heritage.